You're About To Discover Why There Is Only ONE Method (or possibly two) Which You Must Be Using To Learn To Speak Hebrew... FAST!
...and I also want to show you what changed my whole mind about the quickest and easiest way to learn any new language.
HINT: You can put this into action in the next few minutes!
Dear Future Hebrew Speaker,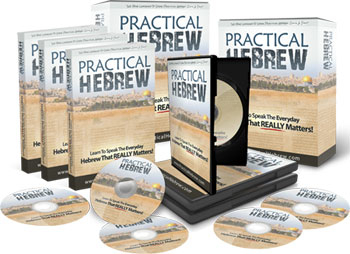 If you've ever tried to learn a new language, you'll know that it's not easy. This is no less true of learning Hebrew than it is with any other language.
However, with my 'Practical Hebrew' training course, you are about to discover exactly why there is only one (or perhaps two) methods that you must be using if you want to master speaking Hebrew as quickly and as easily as possible.
In the next few minutes, you're about to learn everything you need to know about the 'Practical Hebrew' course so that you can see just how it will work for you.
And the best part is that 'Practical Hebrew' is going to teach you the language fast!
I am also going to show you what changed my whole mind about learning a new language... it's simple and it's easy.
Once you have this training course, you can put what you learn into action within just a few minutes of getting started!
Before I tell you what that is let me ask you this...
There are probably a number of reasons why you want to learn Hebrew, right?
Perhaps you want to:
Speak to your Grandchild, Grandparent or another member of your family


You might want to speak to and understand a new (or even prospective) boyfriend or girlfriend


It might be necessary to converse with an employer or employee in Hebrew


In the same way, you might be looking at forming a business partnership with a Hebrew speaker


If you're already in Israel, maybe you need to buy something in a shop


Similarly, it might help if you can read and understand street signs in Jerusalem or Tel Aviv


If you're in Israel for any period of time, speaking Hebrew will undoubtedly help you survive (and thrive throughout) first few months


Perhaps you're considering moving to Israel permanently? If so, speaking Hebrew will make life considerably easier for you
...Maybe you just want to feel closer to Israel?
If so, learning to speak Hebrew will undoubtedly help you.
These are all great reasons for wanting to learn Hebrew but at the same time, it can be said that none of these reasons will actually help you to learn the language
However, if you need to learn Hebrew for any of these reasons (or for any other reason that you can think of), my 'Practical Hebrew' training is definitely for you.
Now, it is not my purpose to criticize other Hebrew language learning courses. However, if you have tried to learn Hebrew before, you probably know that there are lots of language courses that don't really help you a great deal.
You see...
If you have tried other Hebrew courses then you will undoubtedly have found that:
They Can be Irrelevant to Real Life


You Lose Interest After a Short Time


You Ultimately Stopped the Course or Stopped to Learn Hebrew Altogether!
I know that many Hebrew training courses are irrelevant and difficult to follow from my own experiences. Furthermore, a lot of courses seem to focus on the least interesting elements of learning Hebrew such as grammar.
Consequently, the training materials have a tendency to be a bit dull and irrelevant, making it far more likely that you will quit before you complete your studies.
As an example, conjugating verbs might have had some value when you were a child at school, but when you are an adult who just wants to learn to speak Hebrew, it's far less likely that learning how to construct verbs properly has any immediate value.
Instead, what you really want is a training course like 'Practical Hebrew' that focuses on teaching and learning the elements of the language that you really need.
Wouldn't you prefer to learn how to actually speak Hebrew that will be useful to you on an every day level?
What you need is to learn the Practical Hebrew which teaches you the Hebrew that really matters!
...and THIS is what 'Practical Hebrew' course is all about.
Learning a language is hard, there's no doubt... and you may have failed before!
However, failing once does NOT mean that you are forever doomed to continue to fail at all...
In fact, it was my own experiences with learning Hebrew that persuaded me to create the 'Practical Hebrew' training materials in the first place!
'Practical Hebrew' was created as a proven way to understand and speak Hebrew as quickly as possible.
In fact, you could have the basics of Hebrew at your fingertips within the next two hours!
'Practical Hebrew' has been created with advanced input from a number of highly qualified Hebrew teachers who are all living in Israel and 'breathing the language' every single day!
As a consequence, 'Practical Hebrew' is no theoretical course that has been thrown together by people who appear to know little about the language and the culture behind it.
On the contrary, it is an in-depth learning experience compiled by top-level professional teachers whose prime objective is to make sure that you succeed in learning Hebrew where you might have failed in the past.
So, what's included?
Detailed Lessons Divided Into Modules

Over 40 modules teaching you the Hebrew you really NEED to know.

There's video, there's audio and there's written word as well.

Some people prefer to read, some to listen and some to watch. Whichever learning method you favor, 'Practical Hebrew' has been designed to cater to your requirements.

All of these are online in our member area, so that you can refer back to each lesson again and again. You always have access to the training content, wherever you might be.

It also means that 'Practical Hebrew' is instantly available and you won't have to wait for anything to come through the mail... You can get started learning Hebrew right away!
Videos

Each video is produced in-house with one objective - to introduce you to that module and give you practical information on exactly what you are going to learn and how to best digest it.

There is at least one video with each lesson that provides practical information about exactly what you will learn in that particular training.
Audio

Every module has between one and ten actual case studies that have been professionally recorded in a Jerusalem studio by native Israeli Hebrew speakers!

They have been recorded exclusively and only for 'Practical Hebrew' Course!
Written Word

All of the instruction material is written in English.

All of the learning or training instructions are written in English, and while the Hebrew text is written in Hebrew (which will help you to recognize and identify the characters of the alphabet), an English translation and the phonetics are also included.

While including the Hebrew alphabet helps you to learn to recognize the 'Alephbet', there is no need to be able to read Hebrew in order to take this course!
In simple terms, everything in these training materials is specifically designed to enable you to learn to speak and understand Hebrew as quickly and as easily as possible.
It's like having your own personal Hebrew teacher sitting right in front of you!
...someone you can ask the same questions to again and again (and again!) if you need.
The fact is that if I could implant a Hebrew speaking machine in your head, it might be a slightly quicker way of learning the language. However, as it's unlikely that I'm going to be able to do this any time soon, learning from 'Practical Hebrew' is the next best thing!
The truth is..
If you want to speak Hebrew like a native, this is your best chance ever of doing so!
This is an opportunity unlike any that you have been offered before, and I say this as someone who has gone through the Hebrew learning process myself.
Let me explain why this is an opportunity that you cannot afford to miss...
You already know that the 'Practical Hebrew' training materials come in the form of videos, audios and text. However, you probably want to know what is in the lessons that make up the course, right?
Course Content

Firstly, the 'Practical Hebrew' content focuses on language for everyday situations which you can actually use when attempting to communicate with a grandchild, grandparent or another loved one. The course also teaches you the Hebrew that you need if you decide go on holiday or to live in Israel.

Secondly, course materials have been created to ensure that anyone at any level is able to learn the language.

This applies even if you have never spoken a word of Hebrew before and cannot read a single letter of the language!

Thirdly and perhaps most importantly, I created the 'Practical Hebrew' training materials with the specific intent of making sure that anyone who uses them has fun doing so. This is extremely important because when you're having fun, it makes learning a new language so much easier!
As a reminder of what is available after you purchase my 'Practical Hebrew' course, this is what you get immediately:
At least one video in every lesson module!


Professionally recorded audio training materials that you will not find anywhere else!


Complete lessons including many role-playing examples and have the text and audio included as well!
This means you can listen to native Israeli speakers, speaking Hebrew in the way that it is meant to be spoken!
In simple terms therefore, the 'Practical Hebrew' training course is a complete blueprint for learning Hebrew, everything you need to master the language quickly and easily in a step by step format.
Before letting you know about some incredible additions I have just made to the course, let me tell you about the 'no questions asked' guarantee that I will give you once you purchase this product...
60 Day Money Back Guarantee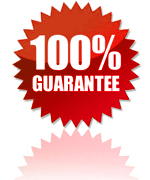 Try it risk free today! If you join today, your membership is 100% guaranteed.
I'm never satisfied unless you are more than satisfied. So here's my simple 'No Small Print' guarantee...
Try 'Practical Hebrew' today and put it through the ringer. Use every strategy and technique as many times as you like for 60 days.
You be the judge. If this program doesn't deliver everything that I've promised or if you're unhappy with it for any reason, simply let me know and I'll immediately refund you.
I have no problem making this iron-clad guarantee because I have personally poured my sweat and tears into this course and know that everything that I show you in 'Practical Hebrew' works to help you speak Hebrew as quickly as possible!
Does that sound fair enough?
As suggested earlier, every training module of the 'Practical Hebrew' course is a lesson in itself. Furthermore, every module contains videos, audio and the text manual to ensure that no matter how you absorb information, you can learn Hebrew from my course.
From experience, I know that getting too much information all at the same time can be overwhelming and that when this happens, it's very hard to make progress. Faced with too much to do, too many choices, it's often easiest to do nothing... and I genuinely don't want you to do this.
Hence, the training content is 'drip fed' with four modules delivered to you every month. Every one of the modules teaches everyday Hebrew that you will use in average, ordinary situations.
'Practical Hebrew' is a unique training course into which I have sunk a lot of time, effort and money.
When I showed this to some of my students they said I should charge $47 a month. I agreed, as it seemed very reasonable and would offer excellent value to you.
However, it is a mission of mine in life to teach Hebrew to as many people as possible... and so I also want to make it as cheap as possible for you!
I really want you to learn Hebrew, to enjoy the language in exactly the same way that I have learned to.
Therefore, I have reduced 'Practical Hebrew' from $47 a month to just $27!
However, There is More... Make Sure You Read the Following as I Have a Massive Surprise for You!
In addition to the main course training materials, I have also decided to include several unique bonuses when you join 'Practical Hebrew'. All of these bonuses will help you to learn and enjoy Hebrew still further.
Bonus #1

'7 Things You Never Knew About Hebrew'
"Essential reading for an introduction to Hebrew!"

A highly informative e-book that forms a tremendous introduction to the Hebrew language. This book is valued at $37.
Bonus #2

'The Mystical Aspects Of The Hebrew Alphabet'
"Strange facts that are strangely true!"

As Hebrew is one of the oldest languages still in use today, there are many mysteries associated with the language and the alphabet behind it. These are revealed in this fascinating e-book that is valued at $47.
Bonus #3

'Interview with Hebrew Teaching Expert Seth Young'
"Learning the learning tips!"

An interview with a renowned Hebrew teaching expert who highlights many tips, ideas and suggestions to help you learn the language even more quickly.

He tells you about the mistakes you must avoid and he also goes in to the practical history of the Hebrew language. Truly fascinating stuff!

In many ways, it is impossible to put a value on the knowledge and expertise contained in this interview, but for the sake of argument, I have valued it at $17.
These additional bonuses, that you receive completely free and can keep even if you decide to stop subscribing to my training course (although I don't understand why you would do so), are conservatively valued at $101!
So, if you purchase today you will receive:
'Practical Hebrew' Course $27
Mystical Aspects of Hebrew $47
Unknown Truths About Hebrew $37
Interview with a Hebrew Teacher $17
Total Value you will receive today:$128!
If I were charging you $27 per month as previously suggested, this offer would therefore represent fantastic value.
BUT...
I really want you to take advantage of 'Practical Hebrew' because as highlighted earlier, I genuinely want as many people as possible to learn this marvelous and enlightening language and so right now...
I'm not going to charge you $128
I'm not even going to charge you $67
I'm not even going to charge you $27
Today, you can try out 'Practical Hebrew', with all of the bonuses and instant course access for just... $4.95 for the first month!
For less than five dollars, you can review the first month of 'Practical Hebrew' training and discover just how easy it is to learn Hebrew using my unique learning processes.
And remember, the whole thing is still covered by my unconditional 60 day guarantee!
All the risk is on me to prove to you that this is the best decision that you have ever made.
To get started learning Hebrew today, simply click on the "Add to Cart" button below.
For just $4.95 you can receive your first lessons and all of those bonuses (worth $128!) and start to learn Hebrew the way that it is meant to be taught today!
P.S - As I'm sure you've realized by now, 'Practical Hebrew' is the only training course you will ever need if you want to learn the language quickly and easily!
And at just $4.95 to get $128 worth of training materials with a full and unconditional 60 day guarantee included, trying it out really is as close to being a no-brainer as it is possible to be!
Make sure to use the "Add To Cart" button now to reserve your seat on this groundbreaking course.
You can also be in touch with me at any time with any questions, day or night, at my helpdesk: http://www.replytoben.com